Dental Hygienists
at Dentalcare Brackley
Why make an appointment to see Dental Hygienists
A good oral hygiene routine together with regular dental check-ups at your dentist can help maintain the best oral health.
Hygienists focus on the health of your gums as well as paying attention to your oral hygiene routine. They can help reduce your chances of getting gum disease by removing the plaque and tartar that builds up on your teeth. At home you can help reduce the chances of developing gum disease by thoroughly brushing your teeth for 2 minutes twice a day.
We recommend that you see a hygienist twice a year. This will help to prevent gum disease but also help with the prevention of tooth decay, bleeding gums, bad breath and stained teeth.
Our affordable hygiene plan
Our Hygiene Plan provides affordable, accessible hygiene appointments whether you are a patient with the NHS or a private patient:
Affordable Hygiene Plan
30 minute Hygiene appointments

2 per year

10% discount on Home Teeth Whitening Fees**
** Subject to suitability
Different conditions that Dental Hygienists can treat
Hygienists help with:
Scaling and polishing teeth to remove hardened plaque. This improves the look of your teeth and prevents more plaque from developing
Assessing your gums for signs of swelling, inflammation and bleeding
Treating and removing stains on your teeth. At Dentalcare Brackley we now offer Airflow polish which uses the combination of air, sodium bicarbonate and a jet of water to gently but effectively remove stubborn stains from your teeth and give a natural, cleaner finish. Learn more about this below
Identifying and treating gingivitis which is the first stage of gum disease and is when your gums become red and inflamed. Your hygienist will also treat the next stage of gum disease – periodontitis which is when gums become further infected
Applying fluoride varnish and sealants on to children's teeth to strengthen and protect teeth
Demonstrating the best ways to clean and floss your teeth
Giving recommendations about diet, drink and tips to stop smoking to boost oral health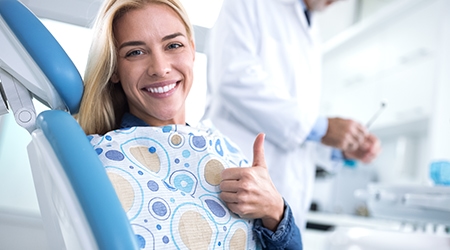 Book your appointment for Dental Hygienists
Airflow Polish in Brackley
We are pleased to offer the latest in teeth cleaning. Airflow polish effectively removes staining caused by tea, coffee, smoking and red wine by using a fine jet of compressed air, water and fine powder particles.
You should consider Airflow treatment if:
You don't want to resort to teeth whitening treatments but would like your teeth to look cleaner and whiter
You have a build-up of plaque – Airflowcan remove this more quickly and easily compared to the usual scale and polish
You have sensitive teeth. There is no direct contact with your teeth when your teeth are cleaned with Airflow
You have dental implants, bridges, crowns or veneers. Airflow is safe to use with all of these
What dental hygienists at Brackley can offer you
At Brackley our dental hygienists will:
Offer personal support. We know that each patient is unique and so we make recommendations solely on what is right for you
Welcome patients of all ages including children. We believe it is vital to educate and promote good oral health to all
Offer flexible hygienist appointment times to suit you including early, late and weekend options
Frequently asked questions about dental hygiene
What are the benefits of seeing a hygienist regularly?
Your gums and jawbones hold the foundations for your teeth, so looking after them is essential to your oral health. Your hygienist will remove the build-up of plaque from your teeth which will also help your oral health. By visiting the hygienist regularly, you will help to preserve the life of your teeth, improve the appearance of your teeth and keep your breath smelling fresh.
How can I make my teeth look white?
Teeth become stained and discoloured through the food and drink that we consume. Your hygienist can restore the natural colour of your teeth by giving them a professional clean and polish.  Airflow is the latest technique in teeth cleaning, which is quick, safe and gentle in removing stains to your teeth. For a more radical change to the appearance of your teeth, you could consider professional teeth whitening.
How can I prevent gum disease?
By visiting your dentist and hygienist regularly who can closely monitor the health of your teeth and gums. In addition, you should be thoroughly cleaning your teeth for 2 minutes every morning and evening. Your hygienist can advise you on the best brushing and flossing techniques.
Dental fees
At Dentalcare Brackley, we treat every patient as an individuals, therefore each treatment plan is completely bespoke. 
Finance
We offer finance options because we believe everyone should be able to benefit from high-quality dental care.
Before & after
We are often told by our patients that the dental treatments we have provided has dramatically improved their quality of life.